Welcome to the Lasting Impressions Blog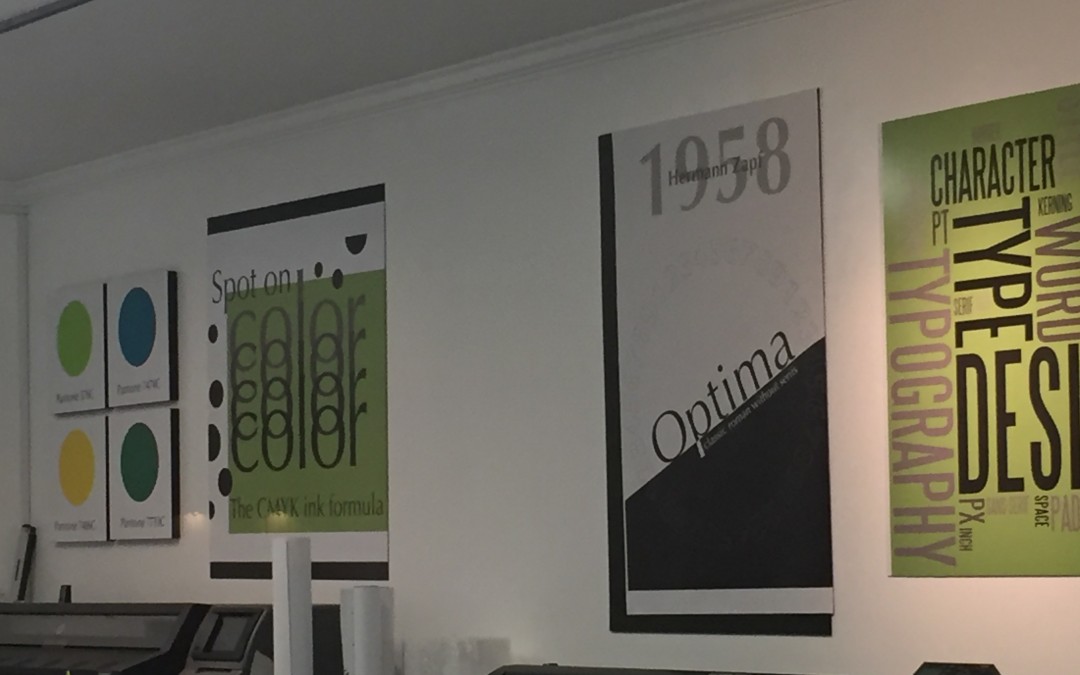 In keeping with our nontraditional style for our custom signs business, our space in Port Royal is also unconventional. We are not in a strip mall in Beaufort nor in an industrial park near Bluffton. We are located in a mixed-use building where we have our studio on the ground floor and an apartment with offices upstairs. The ceilings are high 20 feet, the windows are large, the floor is grey painted concrete, and the walls are a canvas, which have been blank until recently.
We took care in designing the space because we approached it like a project and worked on it in between our real projects. We carefully thought about the purpose of the space—a place to design and craft interior and exterior signage, display graphics, wall murals, and custom wallpaper. We also thought about how we wanted the space to feel. We wanted the studio to be inspirational for our clients and us. We also wanted it to be educational—a place where we display sign projects, custom wallpaper, and museum display panels in an effort educate clients about the best types of materials and creative options for their sign needs. What we came up with is a museum- or art gallery-like space showcasing different types of signs, banners, wall murals, museum panels, wallpaper, artwork on canvas, pop-up banner displays, and back-lit displays mingled with an actual studio working space with a large format printer, laminator, plotter, and work tables.
Custom wallpaper pattern printed on two different types of self-adhesive media with different textures.
The Pantone colors are mounted on a thick, light-weight display panel, which is an ideal option when you want to add depth in an office, museum, or home environment. The exterior spot color sign is printed on vinyl and mounted on aluminum.
Like any museum or gallery, our studio space is a work-in-progress with ever changing projects to put on display. We've recently hung some self-adhesive and removable wallpaper, a wall mural, a vinyl sign mounted on coraplast, a vinyl sign mounted on aluminum, a fabric banner with a linen-like texture, and some museum display panels. And we have more projects in the works. Come see what we are doing in the Beaufort area.
---

As a creative type attending the Specialty Graphics Imaging Association (SGIA) Expo recently in Atlanta with 543 companies showcasing their new products at the 241,500 square foot exhibit space in the Georgia World Congress Center I felt like a kid in a candy store. It was a must-see event for those in the graphic display and signage industry researching innovative product solutions to use with their wide format printers. We were able to learn about new signage and graphics products, see samples, and compare the latest print media solutions for indoor and outdoor signage, custom wallpaper, display graphics, banners, and vehicle wraps. We took advantage of the opportunity to immerse ourselves in this environment to learn from industry experts—not all sign businesses or wide format printers do. We think it is our obligation to learn from the experts so that we can offer our clients in Beaufort, Port Royal, Bluffton, and Hilton Head the best signage and graphic display solutions.
One of the product types that really stood out was the new custom wallpaper solutions that come in a variety of textures and finishes—canvas, dot, leather, and silk textures and pearl, bling, and metallic finishes. These products can be used for permanent or temporary installations and can be applied using traditional wallpaper techniques are peel-and-stick method. These unique printable wallpaper products combined with custom-designed patterns, images, or photos really allow clients to get a truly one-of-a-kind look in homes, offices, churches, hospitals, schools, virtually anywhere. We were so inspired, that when we got back to our offices, one of the first things we did was print some custom wallpaper in two different textures for our studio wall. Stop by Printology sometime to take a look and maybe even get inspired to cover your walls.
---