Welcome to the Lasting Impressions Blog

As a creative type attending the Specialty Graphics Imaging Association (SGIA) Expo recently in Atlanta with 543 companies showcasing their new products at the 241,500 square foot exhibit space in the Georgia World Congress Center I felt like a kid in a candy store. It was a must-see event for those in the graphic display and signage industry researching innovative product solutions to use with their wide format printers. We were able to learn about new signage and graphics products, see samples, and compare the latest print media solutions for indoor and outdoor signage, custom wallpaper, display graphics, banners, and vehicle wraps. We took advantage of the opportunity to immerse ourselves in this environment to learn from industry experts—not all sign businesses or wide format printers do. We think it is our obligation to learn from the experts so that we can offer our clients in Beaufort, Port Royal, Bluffton, and Hilton Head the best signage and graphic display solutions.
One of the product types that really stood out was the new custom wallpaper solutions that come in a variety of textures and finishes—canvas, dot, leather, and silk textures and pearl, bling, and metallic finishes. These products can be used for permanent or temporary installations and can be applied using traditional wallpaper techniques are peel-and-stick method. These unique printable wallpaper products combined with custom-designed patterns, images, or photos really allow clients to get a truly one-of-a-kind look in homes, offices, churches, hospitals, schools, virtually anywhere. We were so inspired, that when we got back to our offices, one of the first things we did was print some custom wallpaper in two different textures for our studio wall. Stop by Printology sometime to take a look and maybe even get inspired to cover your walls.
---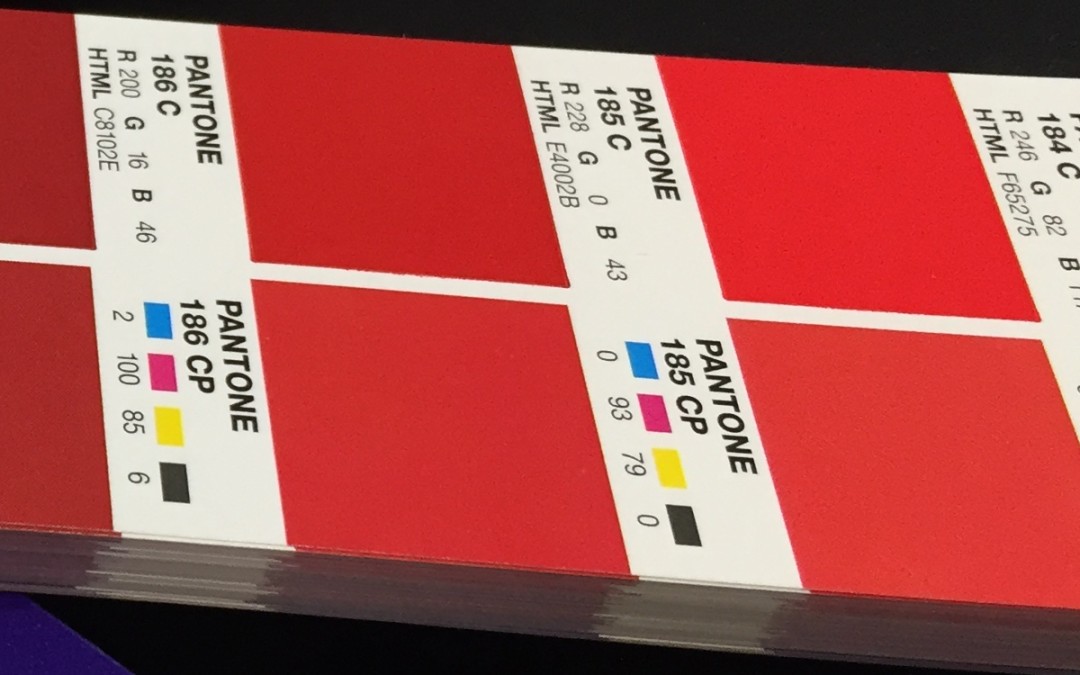 Color is very subjective and can get complicated even when using a standardized color reproduction system like the Pantone Color Matching System to pick colors. The Pantone Color Matching System provides a basis for "color matching" specific colors. It takes the guesswork out of color identification. When making a color selection on a computer monitor, however, pick cautiously.
Recently, we worked with a client to pick several colors to use on a new signage project: a bright red, a tangy orange, and a vibrant purple. We looked at the Pantone Plus Color Bridge Coated fan deck and selected Pantone 186 for the red, Pantone 1585 for the orange and Pantone 2685 for the purple.
After returning to her office, the client looked at the colors on her computer monitor and decided those shades weren't quite right. The red, for instance, seemed too raspberry. So she picked out new shades of red, orange, and purple—Pantone 485 for the red and Pantone 021 for the orange and Pantone 2695 for the purple. Before I had a chance to print proofs, she rethought the red and decided to go with her first choice 186.
When it was time for her to review the artwork, I printed a proof with each of the three color palettes—one with the original colors, one with her second color selections, and one with the original red, and the second orange and purple colors—and marked the Pantone numbers on the back of the proofs. On my screen and after printing, I noticed that the second red choice was actually a bit more orangeish and the new orange was a bit duller than the original.
When I delivered them to her shop, I laid them down face up and ask her which one she liked best. To her surprise, the one she liked the most had the original colors she had picked in the Pantone book not the colors she had selected on her monitor. She seemed puzzled as to why the colors in the book and on her monitor didn't coincide.
The explanation involves how monitors are calibrated differently. Every computer monitor interprets color differently because of calibration—something the average user isn't even aware of. So the color depicted on your screen may not be an accurate representation of the color you want and could be many shades off from what the color actually looks like. Because of this, at Printology, we provide clients with a printed color proof of the project, so you can see the actual colors.
---