Welcome to the Lasting Impressions Blog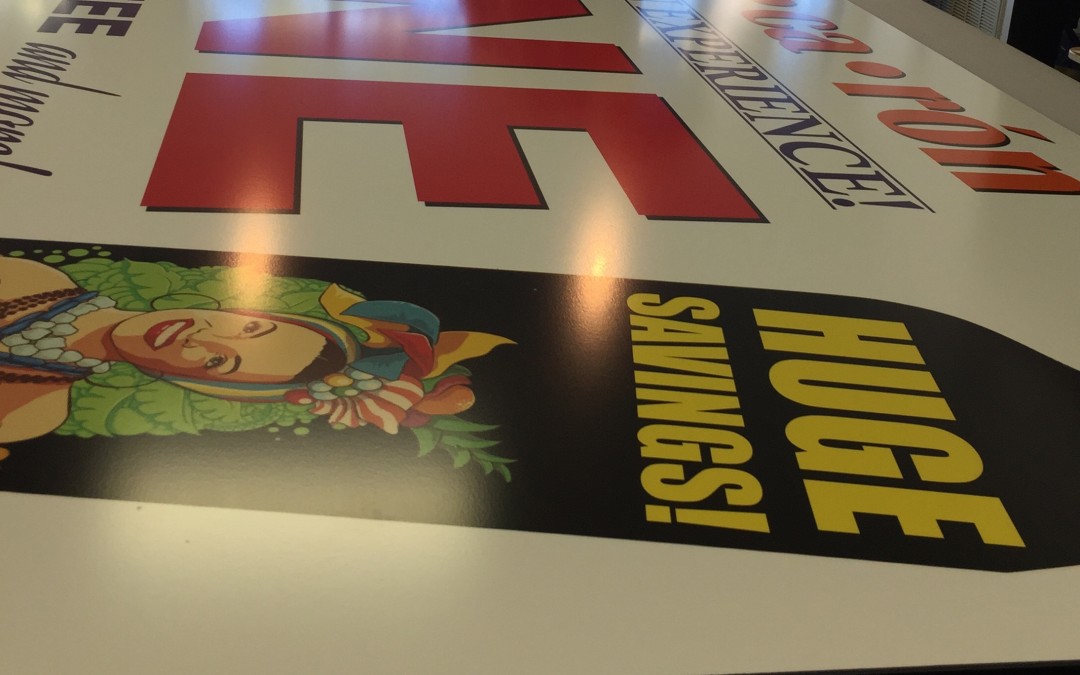 GOALS: Create a highly visible post and panel road sign using eye-catching graphics and bright colors to attract customers. Replace portion of building sign to highlight wine selection.
ARTWORK: Supplied by client.
DIMENSIONS: 4′ x 8 ' double-sided post and panel sign. 18″ x 12 ' building sign replacement strip.
MATERIALS: 3M IJ35 matte vinyl finished with a luster laminate. Mounted on 3mm ACM (aluminum composite material).
EQUIPMENT: Printed on an HP Latex 360. Laminated and mounted using a GFP laminator.
---
In the Lowcountry of South Carolina about 15 miles from Beaufort, SC, and 15 miles from Bluffton, SC, on Highway 170 sits a Caribbean gem that prides itself on being "A Cuban Experience Like No Other." And from the vibrant new road sign proclaiming "A True Cuban Experience" to the authentic interior décor, ta·ca·rón trading company is how one might picture an upscale Cuban specialty shop that offers handmade Cuban-seed cigars and exotic boutique wines. Technically in Ridgeland, Jasper County, but location-wise in Okatie, Beaufort County, ta·ca·rón features a large selection of owner-tasted and -tested global boutique wines and Cuban-seed cigars all at affordable prices.
Owners Cuban-born Juan Carlos Jimenez, a retired professor, and his wife, Isabella, a successful restaurant owner, founded the business in 2012 based on his love of Cuban cigars and their mutual interest in the pleasure of sipping good wines.
Juan Carlos' love of cigars began with his father when he was 5 years old. Over the years he shared many fine cigars with his father and in 1997 started his own cigar company in a garage. He now owns a Cuban-seed cigar factory in the Dominican Republic, which is committed to producing premium quality cigars and selling them at wholesale prices to the public at ta·ca·rón.
The owners' shared passion, the wine bodega, showcases an interesting and comprehensive collection of Spanish, South American, Italian, French, and South African wines. Each is sipped and scrutinized by the owners to ensure it lives up to their standards before offering it to customers. Additionally, the wines are offered at up to 80 percent off suggested retail prices.
Treat yourself to a Cuban experience at ta·ca·rón—a destination not to be missed. Just look for the brightly colored road sign with a Cubanesque vintage wine bottle.
---