Welcome to the Lasting Impressions Blog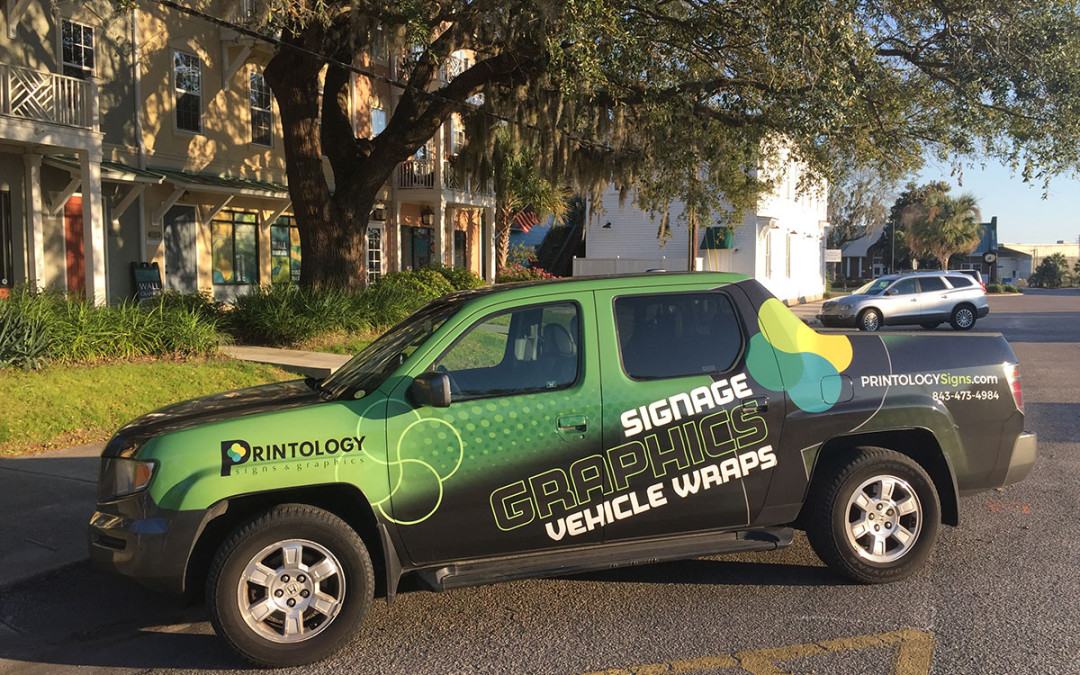 We've conducted an informal study on vehicle wraps in our area to find out whether wrapped vehicles really do drive business in Beaufort County. We've seen articles in Printing News that quote Outdoor Advertising Association of America' s claim that "media targeting drivers and passengers reaches more than 95 percent of Americans" from the Outdoor Advertising Association of America. And further states that "one vehicle wrap can generate between 30,000 to 70,000 impressions daily, up to 3,000 in one hour." But what can Beaufort County (population approximately 183,000) business owners really expect?
When we opened just under two years ago, Mark's gray Honda Ridgeline was just plain gray. Not even a cut vinyl logo or magnet promoting our new wide format printing business venture on the door, window, or tailgate of the truck. All along, however, he had wanted to wrap the truck. For months he talked about his truck wrap. Eventually, he sat down with our designers to fine tune the design—something that would get noticed without being a design wreck, something that he would want to drive everywhere as his primary vehicle. The design came together late last fall and the vehicle wrap install followed soon after. The not-so-scientific study began in February.
Using his now wrapped truck as the willing participant, we wanted to find out: 1. Would the truck attract attention? Yes. Most everyone who now saw Mark's truck commented on the great design or asked about our business. We even had a police officer call after hours one evening to say he had just seen a Printology truck and wanted a quote for his personal car. He also mentioned Mark had a tail light out–the downside of branding with vehicle graphics. 2. Would there be more inquiries about vehicle graphics? Yes. Since February the number of estimates we've provided for vehicle graphics has increased by 70 percent.  3. Would this increase our vehicle graphics business? Yes. The number of vehicle graphics projects in the pipeline currently is up from about 50 percent a year ago.
While we can't guarantee necessarily 3,000 impressions per hour, we feel certain that a well-designed vehicle wrap, whether full or partial, will support your banding efforts and expose you to potential clients. Not convinced. Find more vehicle graphic benefits here. http://www.visibilitysign.com/the-art-of-being-seen/vehicle-wraps-the-gift-that-keeps-on-giving-to-your-bottom-line
---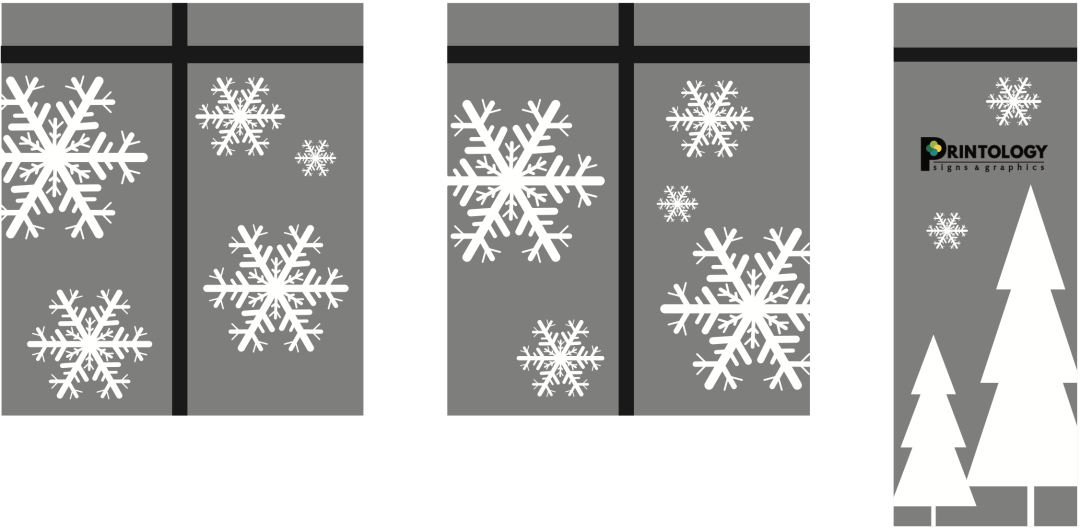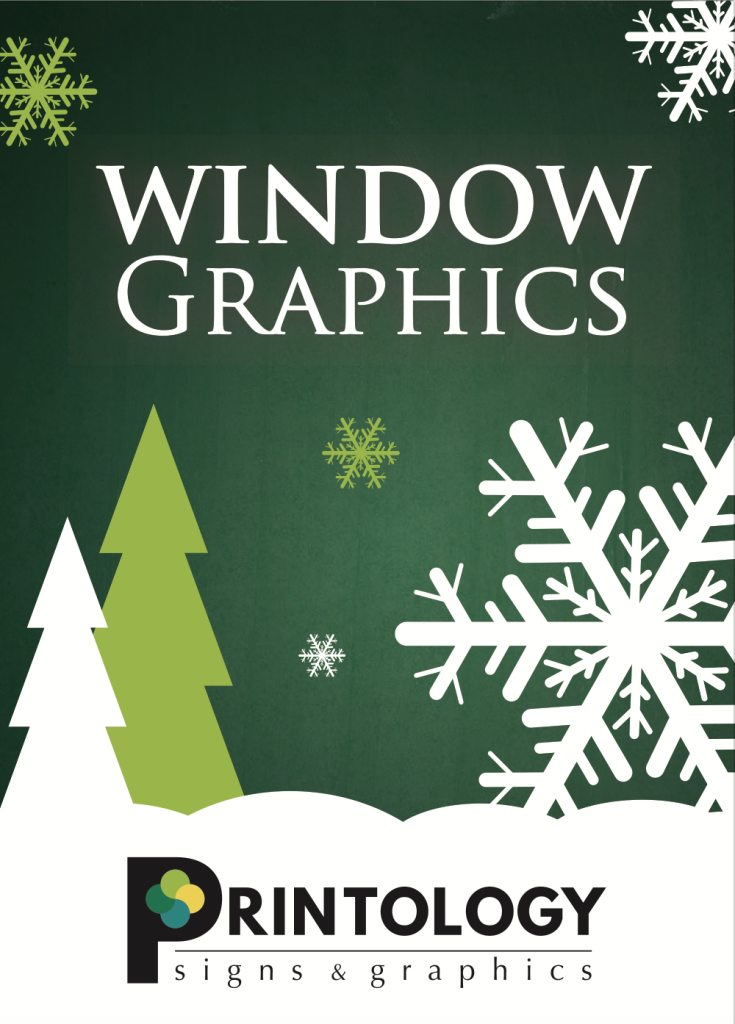 For most our children's lives, we have not lived in a place where we could count on a white Christmas. Los Angeles, California, Decatur, Alabama, Atlanta, Georgia, and Fripp Island, South Carolina, are not known for snow globe-like winter wonderlands. In these snowless cities and towns, we enclose ourselves in a paper snowflake snow globe with window graphics to create a more seasonal climate when the actual temperatures would prohibit even a single flurry.
However, for a relatively short period in each of our children's lives we have lived where it snowed. When our two older children were very young we lived in Hanover, New Hampshire, while Mark was at Dartmouth for his MBA. The first year we were there it snowed on Halloween and didn't stop until Easter. And although we had snow up to the window sills in our small, student duplex, we still decorated the windows with our own hand-cut snowflakes. At the time, the two-year-old's snowflakes didn't really resemble the beautiful flakes we were witnessing first hand, but nonetheless we hung them proudly in the window. And then about a decade later we again lived where there was at least the potential for a white Christmas. Outside the D.C. metro area, we lived in the small, charming, and very hilly town of Clifton, Virginia. Unlike New Hampshire, when it snowed in Clifton, the area could be shut down for days (and during snowmageddon in 2010 even weeks) giving plenty of snow day time to craft our own snowflakes for window graphics. By this time all four children were very skilled snowflake makers and we created an indoor winter wonderland with snowflakes hung on all the windows, ceiling, and doorways.
Just as we draw inspiration from the snows we have experienced, we are also inspired by the window graphics at retail stores  dressed in their holiday best. These retail displays capture the fantastical part of the season. Some of the most extravagant I've seen appeared in an issue of Architectural Digest. http://www.architecturaldigest.com/gallery/best-holiday-windows-new-york#1. These go way beyond our family's talent and budget. For now, we are satisfied with our simple snowflake tradition that blankets us in the magic of the season despite the weather outside.
For guidance on making your own hand-cut paper snowflakes http://www.instructables.com/id/How-to-Make-6-Pointed-Paper-Snowflakes/.
---