Welcome to the Lasting Impressions Blog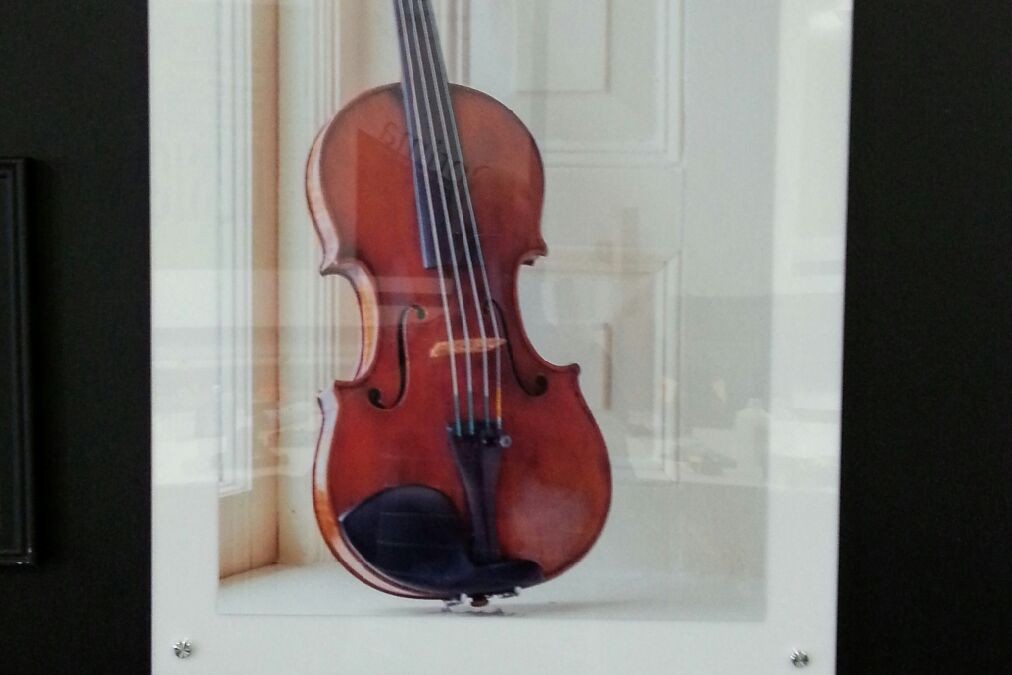 Just by looking at the photo taken by Beaufort photographer Delk Haigler, you can tell that this particular violin, which has been played around the world, has a story to tell. Haigler's portrait of the famous 1715 "Lipinski" Stradivarius violin taken at the historic Anchorage 1770 Inn captures the nuances of the 300-year-old instrument, which along with its owner, world-class violinist Frank Almond, traveled to the lowcountry for a fundraising event benefiting the Boys & Girls Clubs of Northern Beaufort County.
For the fundraiser, Haigler was given the opportunity to photograph the violin, insured for roughly $5 million, and then donate a piece for the auction. Haigler gave Printology Signs in Beaufort, SC one of the violin photos to print and mount as a museum quality graphic because he wanted to try something other than the traditional canvas choice to achieve a piece of artwork. As a graphics and sign studio, we discussed media options like canvas and photo paper finally deciding to print it on a high-quality matte vinyl, mount it on white acrylic, and then frame it with clear acrylic using silver standoffs. The result was a modern, high-end looking piece of art that contrasts with the antique wood tones of the violin. The finished auction piece, which included signatures by both the Haigler and Almond, hints at the complexities of the rare instrument's history.
This particular Stradivarius violin, made by Antonio Stradivari in Cremona, Italy, in 1715 is one of only 1,116 instruments that Stradivari produced. His instruments are still considered some of the best ever produced. The initial owner was Giuseppe Tartini, composer of the famous "Devil's Trill sonata. The owner, for which the Lipinski is named, was noted 19th-century Polish violinist Karol Lipinski. The owner until 2008 was classical pianist Richard Anschuetz. His mother purchased it for $19,000 in 1962 for Anschuetz's wife, concert violinist Evi Liivak. The couple performed all over the world. After his wife died in 1996, Anschuetz eventually moved to Milwaukee and placed the violin in a bank vault. After Anschuetz's death in 2008, Almond received several emails from one of Anschuetz's anonymous heirs, who eventually lent it to Almond with virtually no conditions.
Almond, who has two degrees from Juilliard and is concertmaster for the Milwaukee Symphony, became another chapter in the story of the Lipinski when the violin was stolen on January 27, 2014, after he was tasered following a concert in Milwaukee. The story of the heist made international headlines and the subject of a Vanity Fair article, "The Stradivarius Affair."
Despite the robbery, Almond continues to play the Lipinski and share the story of the heist as part of its fascinating history as he generously did at the Boys & Girls Club event. And now, the owners of the Delk Haigler's 1715 Lipinski Stradivarius artwork will also have a story to tell.
---