Maps are intriguing. People of all ages are drawn to them for the knowledge they contain and as works of art. So, it's not surprising that maps have found a place as a timeless element in interior design offering the appeal of both a beautiful backdrop and a focal-point conversation piece. Custom print capabilities can help incorporate maps into your space as wallpaper, murals, or wall hangings. With these print options, you can translate your interior design vision into something unique for your home, retail, or corporate space.
Nautical Charts and Maps as Design Elements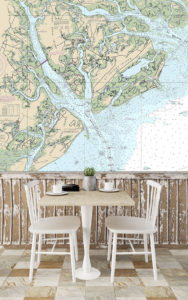 Living in a coastal area, we are particularly fond of nautical charts. Nautical charts can embellish and add style to virtually any personal space–dining rooms, powder rooms, living rooms, bedrooms. Additionally, we envision nautical wallpaper murals in public spaces such as cafes, restaurants, bars, hotels and more. They are also a great way to add a backdrop to conference rooms and individual offices.
We have a floor-to -ceiling nautical wall mural of the Port Royal Sound area in our studio. Many clients who walk into our office and see it are vividly impressed.  We've heard many say, "I want one!"
As a result, we've installed custom wallpaper nautical charts in dining rooms and powder rooms. We've created custom chart wall hangings for the Coastal Discovery Museum in Hilton Head to be used for educational purposes and for environmental groups wanting high-quality custom presentation displays. And we've designed nautical chart wall hangings for homeowners wanting to celebrate the coastal lifestyle.
People are drawn to nautical charts and maps. Customizing them to highlight your interests and style makes them a go-to element when designing your interior space. For other ways to incorporate maps into your interior design scheme. See http://theinterioreditor.com/interior-inspiration/mapping-it-out-decorating-your-home-with-maps/ .