The Beaufort History Museum, housed upstairs in The Arsenal in the Beaufort historic district, recently opened a new exhibit, "Islands of Hope in a Sea of Distress." The new museum exhibit describes how education, politics, industry, and agriculture surprisingly thrived in Hilton Head, Beaufort, Mitchelville, and St. Helena Island during the Reconstruction Era after the Civil War while these same necessary community foundations suffered elsewhere in South Carolina.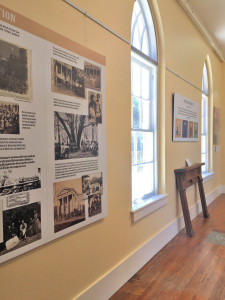 The museum exhibit consists of 14 display panels ranging in size from 30 inches x 60 inches to 60 inches x 60 inches. The graphics were printed, laminated, and then mounted on PVC material. Because of the historic nature of the The Arsenal building, some of the panels were hung from picture rails so as not to damage the plaster walls. Other panels are mounted to wood frames that form an island in the historic space.
The museum exhibit is divided into four sections: education, politics, industry, and agriculture.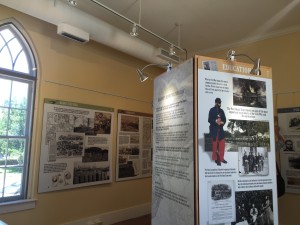 The education section describes the role education played in the area's success. The Port Royal Experiment—an educational laboratory—began with a group of missionaries who came to the area to educate the newly freed slaves and their families, which was illegal before the war. This same group later founded the Penn School.
The politics section emphasizes the role of influential men like Robert Smalls and African-American churches.
The industry section highlights the importance of timber, phosphates, shipping, and the Port Royal Railroad to the Sea Island economy.
The agriculture section explains how that what was grown in the area—a lot of cotton—didn't necessarily change. What did change though was land ownership. The plantation system was replaced with small farms with freedmen farmers.
The new museum exhibit will be on display for about a year at the Beaufort History Museum, 713 Craven St, Beaufort, SC.