The art and science of lasting impressions
An Introduction
Printology Signs & Graphics is a place where art and science come together to help our clients make the best possible impression with custom signs and graphic solutions in Beaufort and Bluffton, SC. First impressions are lasting impressions. Great graphics combined with meticulous craftsmanship create lasting impressions. Browse our website to see the graphics that have made a lasting impression on us.
A Definition
PRINT: An original work of art intended for graphic repro-duction OLOGY: A branch of knowledge. As our name implies, we are not an ordinary sign business. Our products whether lobby signage or museum graphics tend to be  artistic and memorable—something that makes a lasting impression. And our base knowledge and desire to stay on the cutting edge of industry techniques and trends make us specialists. Printology by our definition requires both art and a science to make a lasting impression.
A Commitment
We are committed to excellence and professionalism in our graphic solutions and client relationships. With our backgrounds you can expect nothing less. Coming from a 20-year career in the corporate world, we aim to bring unprecedented professionalism to our client relationships. Additionally, our 20 years of experience in design, printing, and sign fabrication ensures creative solutions that exceed our clients' expectations. By getting to know our clients and their businesses, we work together on creative graphic and signage solutions and deliver meticulously crafted products that leave a lasting impression.
Learn about our team and philosophy
BLOG:
Lasting Impressions
See the latest posts from the Printology Signs & Graphics Lasting Impressions blog.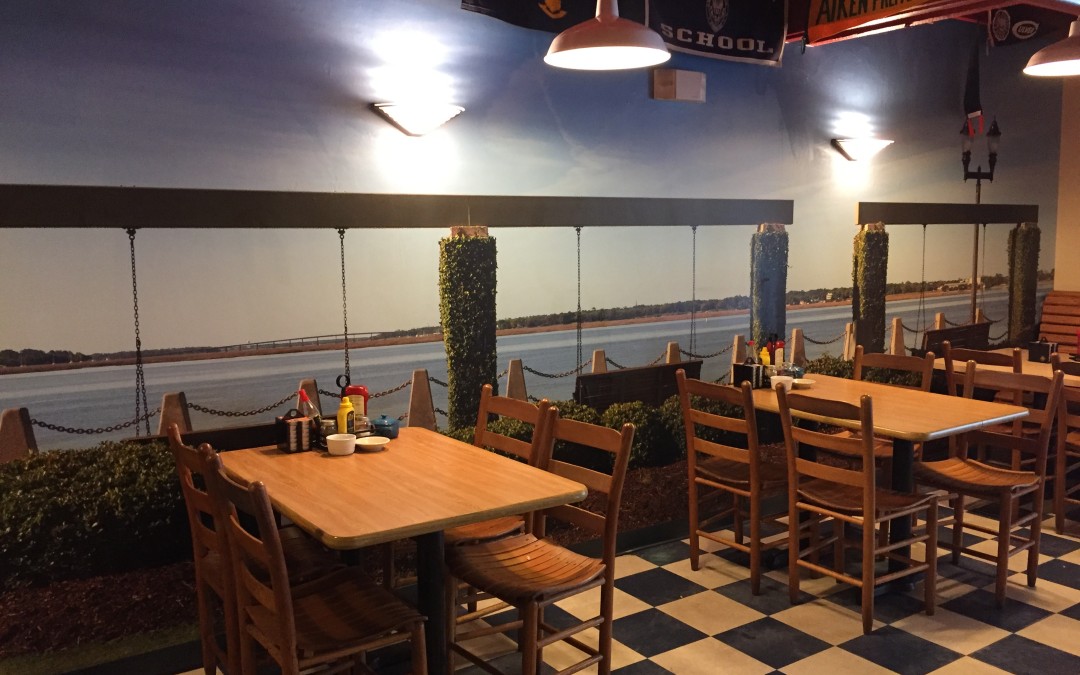 In Beaufort, restaurant guests look for local flavor, great food, and "a view of the water." Blackstone's Cafe easily satisfies an appetite for the first two. And now Blackstone's offers scenic water views at the Scott Street location via custom wall murals. When the new owners purchased Blackstone's recently, they envied the other downtown restaurants that overlook the Beaufort River. So they decided to create a waterfront dining experience with custom wall murals. The idea is to provide a feel of waterfront dining without changing the character of the restaurant know for its alma mater flags and pennants. The owners worked with local photographers to capture the view from the Woods Memorial Bridge to the McTeer Bridge for the wall murals. The photographs were stitched and scaled to create floor-to-ceiling murals for both upstairs and downstairs walls. Once the correct size, the images were printed with HP latex inks on a commercial-grade Type II wallpaper. This type of wallcovering media meets industry criteria for scrubability, stain resistance, flame spread, colorfastness, and abrasion resistance. When combined with HP inks the wallcovering lasts indoors away from direct sunlight for up to 20 years. The wallcovering goes up with common adhesives and installation techniques. All of these factors were important to the new Blackstone's...
---
Print Queue
Projects in the queue at Printology Signs & Graphics.