The art and science of lasting impressions
An Introduction
Printology Signs & Graphics is a place where art and science come together to help our clients make the best possible impression with custom signs and graphic solutions in Beaufort and Bluffton, SC. First impressions are lasting impressions. Great graphics combined with meticulous craftsmanship create lasting impressions. Browse our website to see the graphics that have made a lasting impression on us.
A Definition
PRINT: An original work of art intended for graphic repro-duction OLOGY: A branch of knowledge. As our name implies, we are not an ordinary sign business. Our products whether lobby signage or museum graphics tend to be  artistic and memorable—something that makes a lasting impression. And our base knowledge and desire to stay on the cutting edge of industry techniques and trends make us specialists. Printology by our definition requires both art and a science to make a lasting impression.
A Commitment
We are committed to excellence and professionalism in our graphic solutions and client relationships. With our backgrounds you can expect nothing less. Coming from a 20-year career in the corporate world, we aim to bring unprecedented professionalism to our client relationships. Additionally, our 20 years of experience in design, printing, and sign fabrication ensures creative solutions that exceed our clients' expectations. By getting to know our clients and their businesses, we work together on creative graphic and signage solutions and deliver meticulously crafted products that leave a lasting impression.
Learn about our team and philosophy
BLOG:
Lasting Impressions
See the latest posts from the Printology Signs & Graphics Lasting Impressions blog.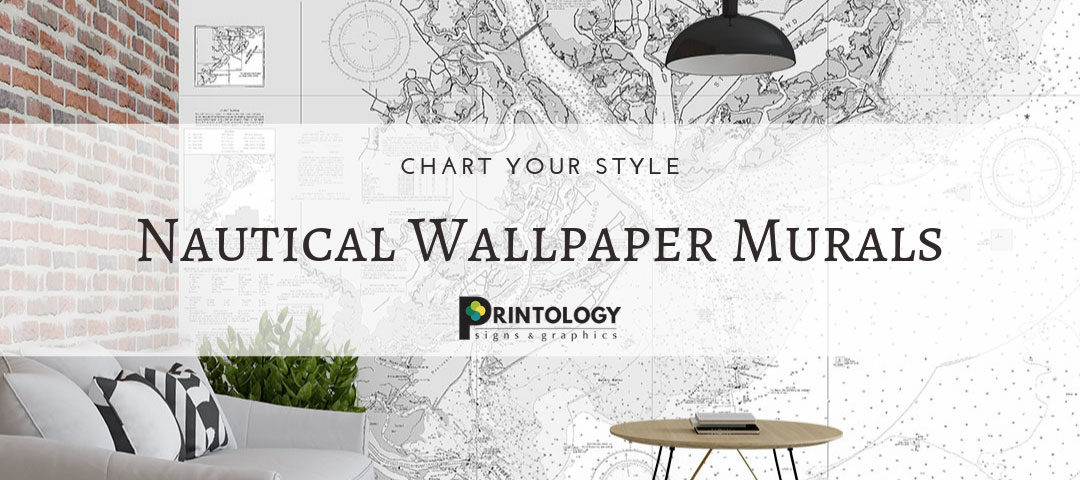 Maps are intriguing. People of all ages are drawn to them for the knowledge they contain and as works of art. So, it's not surprising that maps have found a place as a timeless element in interior design offering the appeal of both a beautiful backdrop and a focal-point conversation piece. Custom print capabilities can help incorporate maps into your space as wallpaper, murals, or wall hangings. With these print options, you can translate your interior design vision into something unique for your home, retail, or corporate space. Nautical Charts and Maps as Design Elements Living in a coastal area, we are particularly fond of nautical charts. Nautical charts can embellish and add style to virtually any personal space–dining rooms, powder rooms, living rooms, bedrooms. Additionally, we envision nautical wallpaper murals in public spaces such as cafes, restaurants, bars, hotels and more. They are also a great way to add a backdrop to conference rooms and individual offices. We have a floor-to -ceiling nautical wall mural of the Port Royal Sound area in our studio. Many clients who walk into our office and see it are vividly impressed.  We've heard many say, "I want one!" As a result, we've installed custom wallpaper nautical charts in dining rooms and powder rooms. We've created custom chart wall hangings for the Coastal Discovery Museum in Hilton Head to be used for educational purposes and for environmental groups wanting high-quality custom presentation displays. And we've designed nautical chart wall hangings for homeowners wanting to celebrate the coastal lifestyle. People are drawn to nautical charts and maps. Customizing them to highlight your interests and...
---