The art and science of lasting impressions
An Introduction
Printology Signs & Graphics is a place where art and science come together to help our clients make the best possible impression with custom signs and graphic solutions in Beaufort and Bluffton, SC. First impressions are lasting impressions. Great graphics combined with meticulous craftsmanship create lasting impressions. Browse our website to see the graphics that have made a lasting impression on us.
A Definition
PRINT: An original work of art intended for graphic repro-duction OLOGY: A branch of knowledge. As our name implies, we are not an ordinary sign business. Our products whether lobby signage or museum graphics tend to be  artistic and memorable—something that makes a lasting impression. And our base knowledge and desire to stay on the cutting edge of industry techniques and trends make us specialists. Printology by our definition requires both art and a science to make a lasting impression.
A Commitment
We are committed to excellence and professionalism in our graphic solutions and client relationships. With our backgrounds you can expect nothing less. Coming from a 20-year career in the corporate world, we aim to bring unprecedented professionalism to our client relationships. Additionally, our 20 years of experience in design, printing, and sign fabrication ensures creative solutions that exceed our clients' expectations. By getting to know our clients and their businesses, we work together on creative graphic and signage solutions and deliver meticulously crafted products that leave a lasting impression.
Learn about our team and philosophy
BLOG:
Lasting Impressions
See the latest posts from the Printology Signs & Graphics Lasting Impressions blog.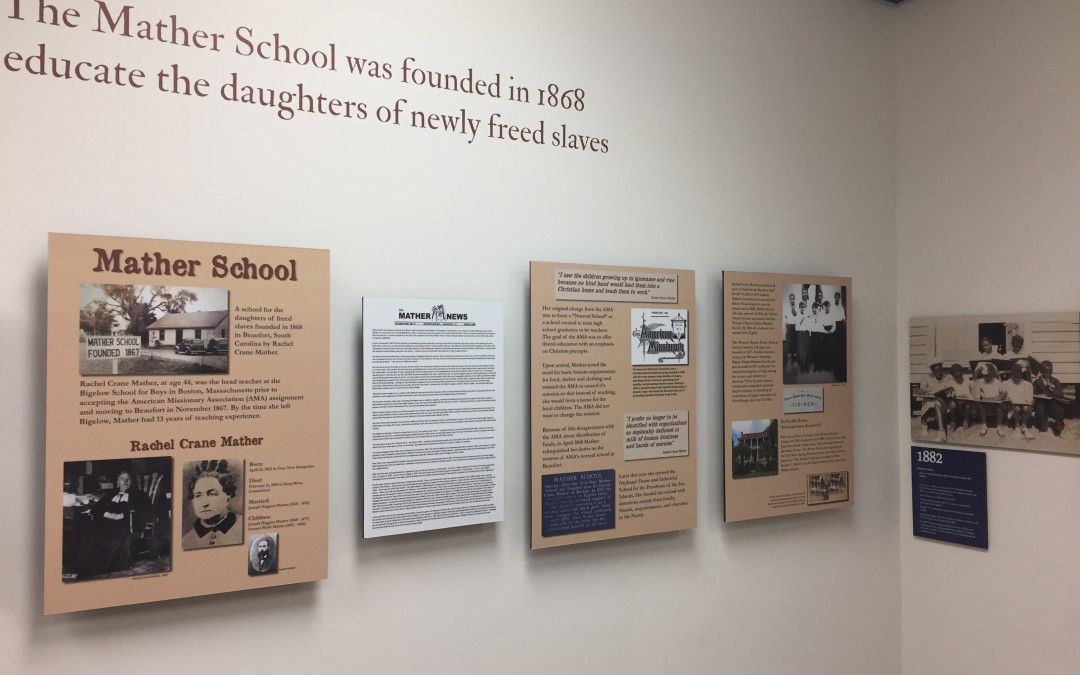 Sometimes printing the interpretative panels and photography pieces of a museum exhibit is like opening a puzzle box. Initially, you don't know where each piece goes or how the pieces are connected to make the big picture. For the Mather School Museum and Interpretative Center that was our role. We printed and produced about 60 panel pieces ranging from 8" x 8" to 30" x 20," (with the larger ones interpretative panels) some cut lettering, and some custom wallpaper. Not knowing how each of these components were going to fit together, we were looking forward to seeing how the end result would honor the story. So when I went to the opening of the exhibit for the Mather School Museum, my mouth literally fell open because I was so surprised. I saw the pieces we had produced put together to tell the amazing story of this Reconstruction Era school. Interpretative Panels Tell History The history of the Mather School, like our role in printing the components for the exhibit, is a piece of a larger story that is just beginning to be told. At the exhibit opening Beaufort Mayor Billy Keyserling spoke about how the Reconstruction story is like something simmering in a pressure cooker where you need to take the lid off slowly and release the contents gradually. The story of the Mather School is one of those stories being released from the pressure cooker. The school was started in 1867 by Rachel Mather (a Boston-based teacher) to educate the daughters of freed slaves, what seems like an astonishing idea for that time. The school expanded to offer high...
---
Print Queue
Projects in the queue at Printology Signs & Graphics.