The art and science of lasting impressions
An Introduction
Printology Signs & Graphics is a place where art and science come together to help our clients make the best possible impression with custom signs and graphic solutions in Beaufort and Bluffton, SC. First impressions are lasting impressions. Great graphics combined with meticulous craftsmanship create lasting impressions. Browse our website to see the graphics that have made a lasting impression on us.
A Definition
PRINT: An original work of art intended for graphic repro-duction OLOGY: A branch of knowledge. As our name implies, we are not an ordinary sign business. Our products whether lobby signage or museum graphics tend to be  artistic and memorable—something that makes a lasting impression. And our base knowledge and desire to stay on the cutting edge of industry techniques and trends make us specialists. Printology by our definition requires both art and a science to make a lasting impression.
A Commitment
We are committed to excellence and professionalism in our graphic solutions and client relationships. With our backgrounds you can expect nothing less. Coming from a 20-year career in the corporate world, we aim to bring unprecedented professionalism to our client relationships. Additionally, our 20 years of experience in design, printing, and sign fabrication ensures creative solutions that exceed our clients' expectations. By getting to know our clients and their businesses, we work together on creative graphic and signage solutions and deliver meticulously crafted products that leave a lasting impression.
Learn about our team and philosophy
BLOG:
Lasting Impressions
See the latest posts from the Printology Signs & Graphics Lasting Impressions blog.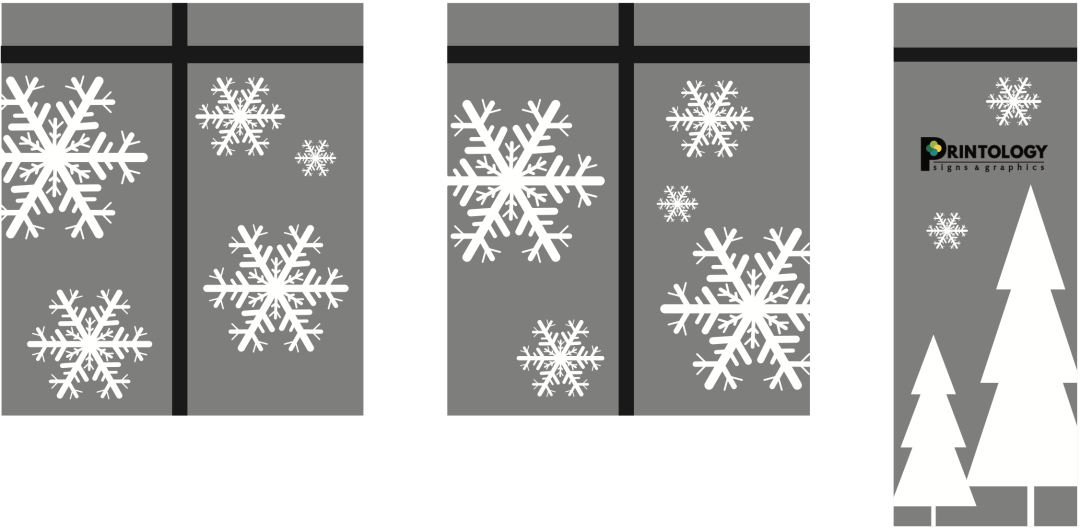 For most our children's lives, we have not lived in a place where we could count on a white Christmas. Los Angeles, California, Decatur, Alabama, Atlanta, Georgia, and Fripp Island, South Carolina, are not known for snow globe-like winter wonderlands. In these snowless cities and towns, we enclose ourselves in a paper snowflake snow globe with window graphics to create a more seasonal climate when the actual temperatures would prohibit even a single flurry. However, for a relatively short period in each of our children's lives we have lived where it snowed. When our two older children were very young we lived in Hanover, New Hampshire, while Mark was at Dartmouth for his MBA. The first year we were there it snowed on Halloween and didn't stop until Easter. And although we had snow up to the window sills in our small, student duplex, we still decorated the windows with our own hand-cut snowflakes. At the time, the two-year-old's snowflakes didn't really resemble the beautiful flakes we were witnessing first hand, but nonetheless we hung them proudly in the window. And then about a decade later we again lived where there was at least the potential for a white Christmas. Outside the D.C. metro area, we lived in the small, charming, and very hilly town of Clifton, Virginia. Unlike New Hampshire, when it snowed in Clifton, the area could be shut down for days (and during snowmageddon in 2010 even weeks) giving plenty of snow day time to craft our own snowflakes for window graphics. By this time all four children were very skilled snowflake makers and we created an indoor...
---
Print Queue
Projects in the queue at Printology Signs & Graphics.